I was wondering if drawing on wood with colored pencil would actually be possible, because I couldn't imagine it to work. So, I started my research and found a lot of examples of people doing it. I was so impressed and wanted to try it myself right away. At a local handicraft and paper store I randomly found those, about 10cm in diameter, wooden disc. I don't know what type of wood it is, as it doesn't say it on the packaging or online. Anyhow, here are some points I came around that are important if you want to draw on wood, so keep on reading if you're interested.
PICK THE RIGHT TYPE OF WOOD
As I said, I don't know what exact type of wood I got, but make sure you work with a hard type of wood, otherwise you would make indents with your pencil while drawing.
GET THE WOOD SURFACE AS SMOOTH AS POSSIBLE
The wooden disc I did my drawing on had a quite rough surface. I tried to sand it down a little bit but because I only had a very fine sandpaper, it didn't go as planned and I wasn't able to get a super smooth finish. I tried to make the best out of it, but really struggled in those areas that were a bit rougher.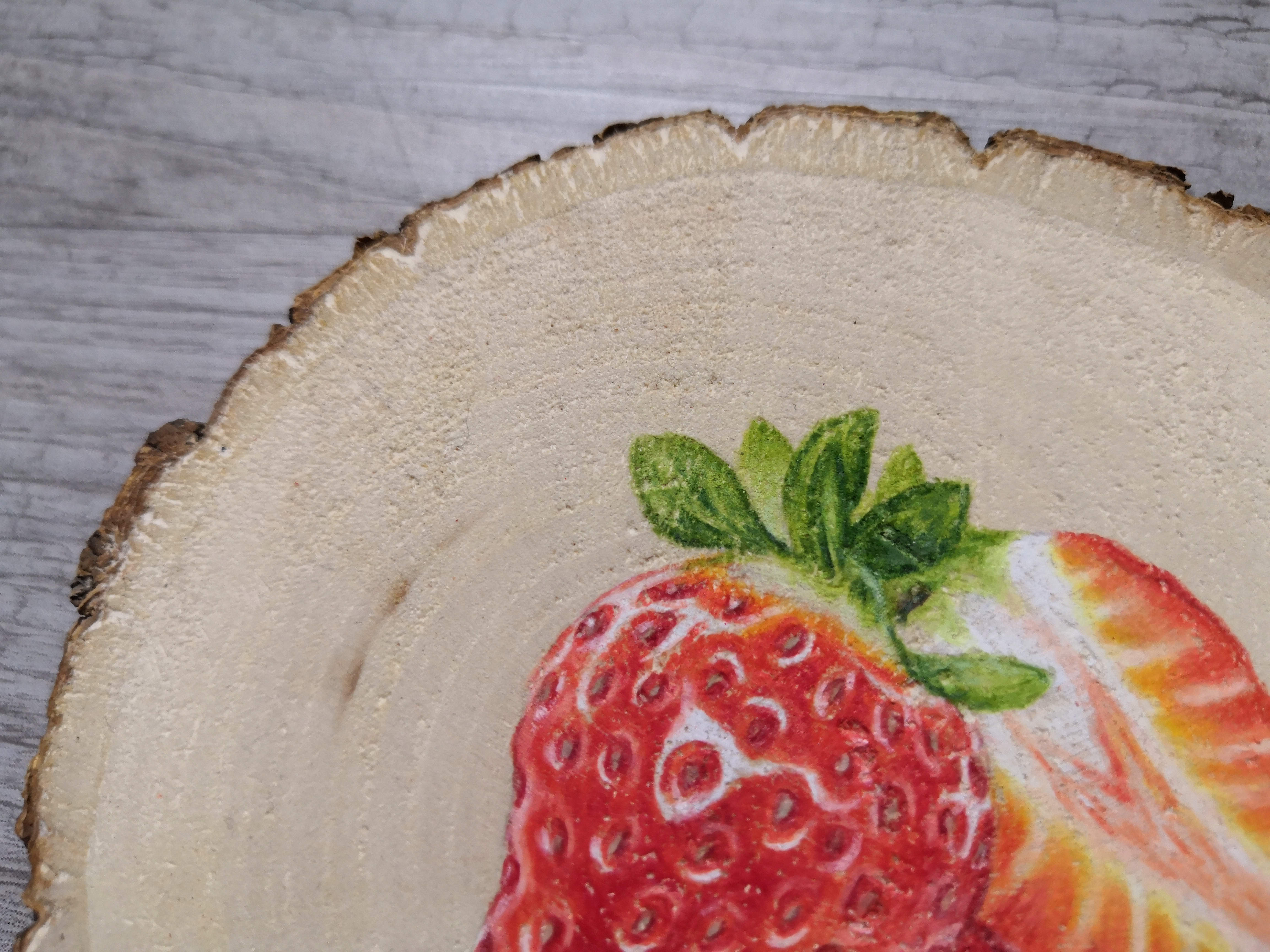 Here you can see the texture that was left on the wood and I couldn't get rid of. It got quite tricky to draw in those areas because I had to try and colour the inside of the little indents.
WOOD TAKES THE PIGMENT REALLY EASY
One thing that I definitely was not expecting was that the wood took the pigment super fast. When working on paper you're used to applying more layers to get an opaque and vibrant finish. But with wood, I was just adding the first layer with a very light hand and it already showed up very pigmented.
PENCILS LOSE THEIR TIP FASTER
Even though you don't need a lot of pressure to get the pigment on the wood, the pencils get dull faster than on paper. The roughness of the wood takes the pigment easier but therefore also faster, which is why the pencils lose the sharp tip so quickly. But if you can get the surface smoother from the beginning, it probably wouldn't be as much.
BLENDING WORKS REALLY WELL
Because of that rougher surface wood can take a lot of layers, wherefore blending works really well. It's also quite easy to go over with a lighter colour and have it still show up. Obviously, it won't show up as bright as it would be on its own but it was still easy to brighten up certain areas.
SOFTER PENCILS WORK BETTER THAN FIRMER ONES​
This one probably depends a bit on the wood you're working on, but I realized that pencils with a softer core worked way better, as they don't make indents as easily. I still used pencils with a firmer core to get sharper edges, but I had to be really careful to not push too hard into the wood.
So here you have it, everything I learned about drawing on wood at my first time trying it out. I hope you liked it and might want try it yourself now. If you do so, make sure to share it with me, as I would love to see what you create.